Rust, Maintenance, and Replacements: Challenges Ardyne AS has solved with innovative glassfiber solutions.
Ardyne AS is an oil service company specializing in providing services and products to most oil companies on the Norwegian continental shelf in P&A (plug and abandonment) and recovery. Their Norwegian facilities in Tananger consist of an office building and two large workshop halls. Maintenance and repairs of existing equipment are carried out here, while they also have an R&D department dedicated to developing new products.
Just inside the workshop doors sits Kenneth Frøyland. Kenneth is the Workshop Supervisor responsible for planning and facilitating the work that takes place in the workshop, ensuring they have all the necessary equipment to deliver what the customers need.
Kenneth is committed to creating a safe and positive work environment, aiming to eliminate unnecessary friction. He has contacted us on several occasions to address these challenges.
"We've come up with ideas, and you've delivered solutions," said Kenneth Frøyland about the collaboration between Ardyne AS and Glassfiber Produkter AS when we visited their premises in mid-October.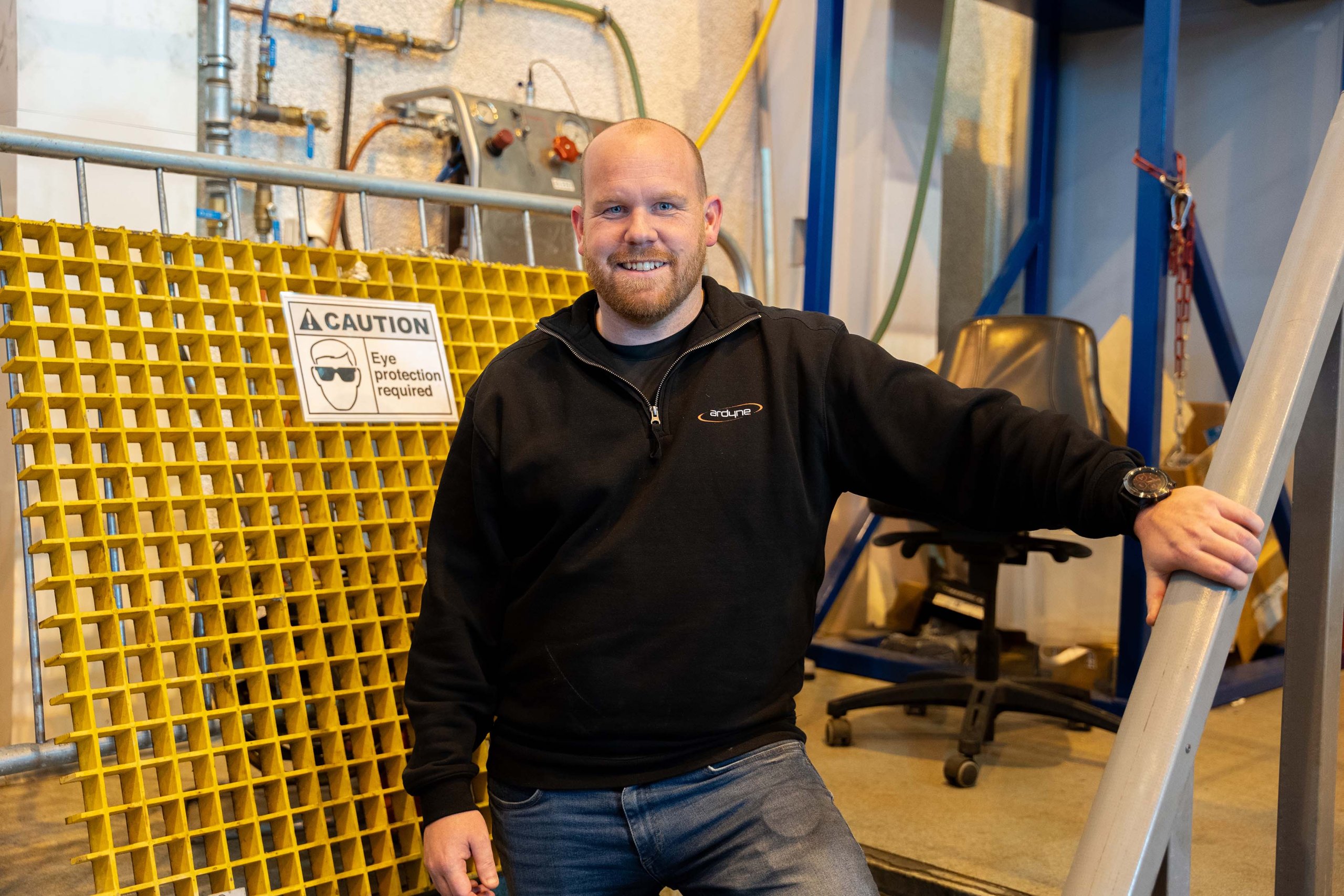 It all started with a test chamber
Ardyne needed to build a test chamber for pressure and functional testing of their equipment. To perform the tests in the safest possible way, they conduct them inside the test chamber by removing air, introducing liquid, and checking for closure under 5000 psi of pressure.
Previously, the chamber was open, but now the entire chamber is covered with yellow grating that can be opened and closed as needed. We have also provided and installed a staircase for easy access to the test chamber.
Our latest job for Ardyne was a modification of the test chamber. We have now installed railing around the test chamber opening to ensure safe access when it is open.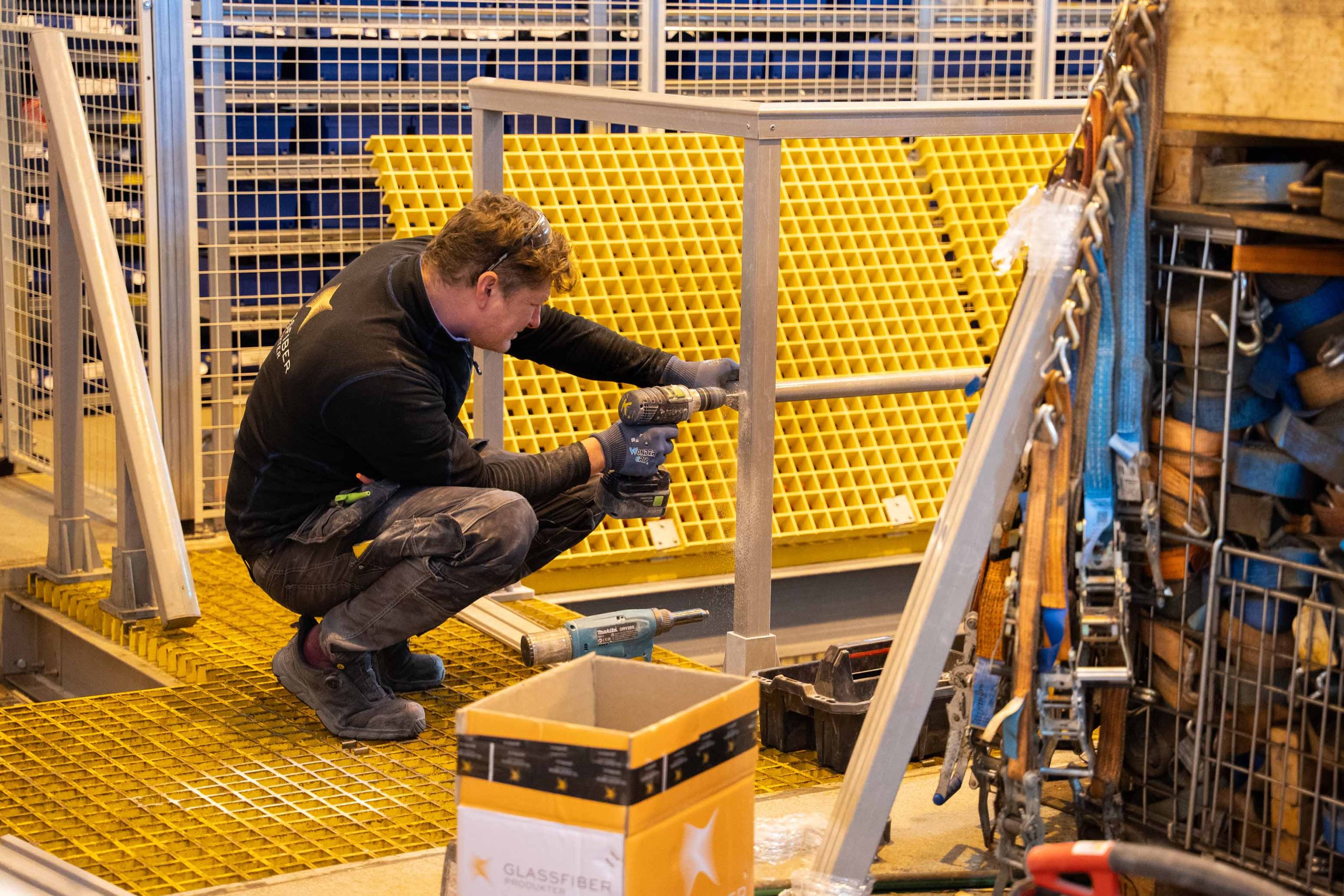 Installation of handrail for the test chamber.
Kenneth in front of the open test chamber.
A resilient material for a corrosive environment
In the other hall stands a breakout machine tasked with assembling and disassembling the equipment Ardyne develops and works with. To handle the mess that occurs, the area around the machine is equipped with glass fiber grating. The specific design allows efficient drainage of spills, and the lightweight construction makes it easy to remove the grating for cleaning.
Espen Bekkeheim showcasing one of the fiberglass grates beneath the breakout machine.
Thanks to the corrosion-resistant properties of the fiberglass grating, Ardyne doesn't have to worry about rust and maintenance of the grates. The virtually maintenance-free nature of fiberglass is one of the main reasons Kenneth has chosen products from us for tasks like this.
Breakout-machine surrounded by grating panels.
A genuine acid test for fiberglass, literally
To maintain and remove surface rust from various workshop equipment, Ardyne has developed a solution in the form of an acid bath. The equipment is placed in a cage lowered into the acid bath. Previously, Ardyne used materials that required treatment, maintenance, and regular replacement. Still, when Kenneth sought new solutions, he contacted Magnar Stangeland from Glassfiber Produkter AS.
"It's always nice to receive inquiries from Ardyne, who are so forward-thinking that they opt for glass fiber when launching new projects in the workshop," says Magnar about being contacted by Ardyne.
After a quick phone call, the idea quickly became a practical solution, and the production of the glass fiber cage was initiated.
Espen Bekkheim senker glassfiberburet i vann etter den er ferdig i syrebadet.
Fiberglass solutions
Our partnership with Ardyne AS perfectly illustrates the flexibility of fiberglass material. Various challenges are creatively solved, all realized using fiberglass.
"We greatly appreciate Ardyne as a customer, an exceptionally pleasant company to work with. They come up with an idea that we realize using fiberglass," continues Magnar about working with Ardyne.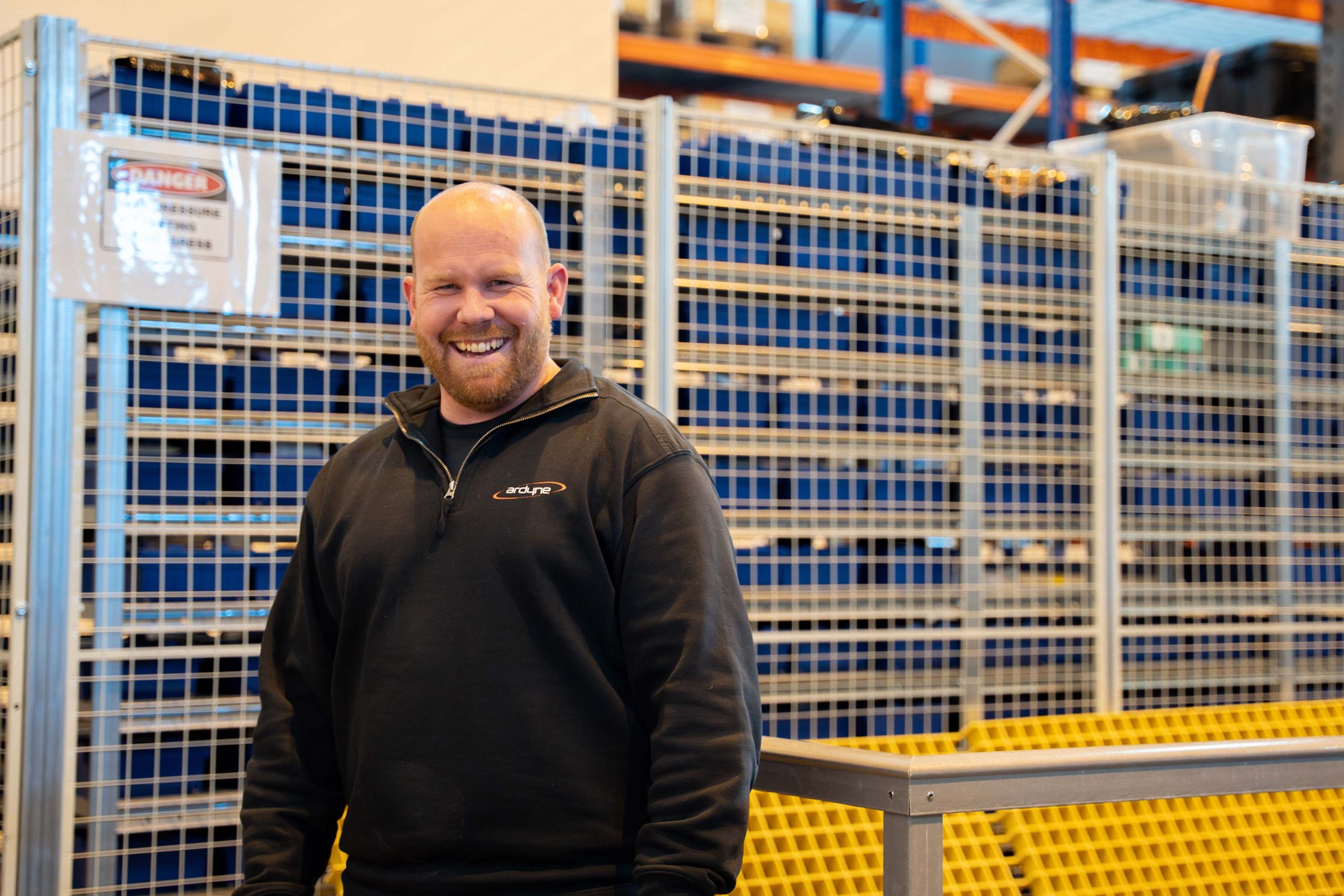 Kenneth is clear that in the future, he will contact Glassfiber Produkter AS to realize his new ideas. We at Glassfiber Produkter AS look forward to future collaborations.